IELTS General Training Writing Task 1: 3 sample letters from Cambridge 6, 7 & 9; with model answers, guidelines and tips
In this General Training IELTS Writing Task 1 post, I'm sharing three different letter samples with model answers from Cambridge IELTS Series 6, 7 and 9. One of them is a semi-formal complaint letter, one is an official letter for an insurance claim and one is an informal/personal letter. I'm also sharing some tips at the end of the post. I hope these sample answers will help you write your own answers correctly.
This sample is taken from Cambridge 6 Test A.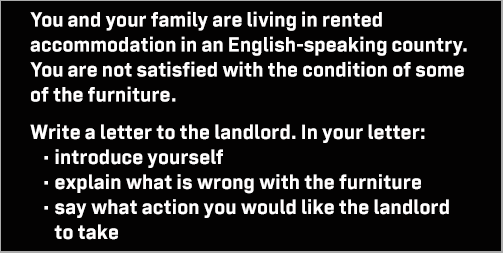 Model answer:
Dear Mr. Kendrik,
I am your tenant writing from 454, Sunberry Hills on Washington Arling Street. I met a couple of times since I have been a renter in your property in 2018 when I moved here from Italy.
I have lived in this dwelling for 3 years now and I feel I should discuss some issues regarding the furniture. When I took the apartment as rent from you, I got a big and artistic dining table with 4 dining chairs along with some other furniture. The dining table has come to an extremely poor condition as the legs have become uneven due to termite infestation. I have found at least ten small holes in two legs with sawdust on the floor. This is making the table wobbly and my family is afraid to take meals or gather around the table. We have been taking meals on the floor instead.
I suggest that you replace the dining table and chairs at your convenience and I can assure you that I do not need any artistic dining table like this one. Any dining table with firm legs will solve this issue simply without much cost. I hope you agree with this proposal and take rapid action.
I look forward to hearing from you.
Sincerely yours,
Najibur Rasul.
(210 words)
You can post your own model answers in the comment section so that others can get good ideas.
This sample is taken from Cambridge 7 Test A.
Model answer:
Dear Casie,
I hope you and Rosey are doing well, and I'm so very sorry I write after quite a while. In fact, I passed quite a busy month or two. I'm writing to let you know that I have resigned from the company I used to work for and joined a new one.
You probably recall that I was working for a computer software development company in Rodham, close to the restaurant where Rosey used to work as a sous-chef. I had to work for long hours and the authority was neither paying me well nor some breaks. I notified them of the matter and yet they did not pay much attention. So, I applied for another software company at Queensfort as a Software Analyst.
My interview was quite complex but I managed to satisfy the Board of Directors and Senior Officers. Last week I got my job offer letter and just yesterday I joined the company. I'm feeling quite excited because the pay is great and I don't have to work for long hours anymore. Moreover, I'll get two breaks now and my residence is not far away.
By the way, my sister Unaiza has become a new mother of a cute baby boy. I'm going to visit her in Bristol in a couple of days. I promise to meet you immediately when I return from Bristol. 
With love,
Najib.
(225 words)
You can post your own model answers in the comment section so that others can get good ideas.
This sample is taken from Cambridge 9 Test B.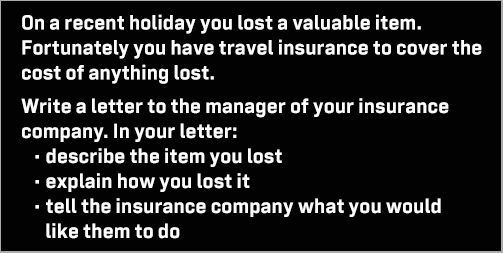 Model answer:
Dear Sir or Madam,
I am writing this letter to inform you that I have lost an expensive item recently on a holiday in Bali, Indonesia and the item is insured with your company. It was a stainless steel wristwatch of Longines Admiral Chronograph brand that cost me about $3500 when I bought it from a Brand Store in Italy. Since I have this item under the insurance coverage from your company, I am hoping to receive the insurance money.
The unfortunate incident occurred when I took a vacation with my colleagues in Bali, Indonesia between 23rd of May and 29th of May this year. I was having a stroll on the beach near Hotel Alexandria where we stayed for the whole vacation. I lost one of the handbags when strolling near the restaurant area. Unfortunately, my watch was in the bag along with some other stuff.  We immediately called the local police after searching for the handbag for a while and lodged an FIR with the police station. The FIR registration number is NR-7512201945112.
As the watch is an expensive one, I would like to claim the insurance amount for the lost item. As per the policy explained in the insurance, I am accountable to claim $3000 as an insurance refund. Please find the FIR copy and the invoice copy for the lost watch attached to this letter.
I look forward to hearing from you soon.
Yours faithfully,
Najibur Rasul.
(227 words)
You can post your own model answers in the comment section so that others can get good ideas.
TIPS: 
Openings of different letters: take a look at how different letters open. 
Formal letter – Dear Sir or Madam, 
Semi-formal letter – Dear Mr./Mrs. James, 
Informal letter – Dear James, 
If you think the post is helpful, please follow and like us: