IELTS AC & GT Writing Task 2: agree-disagree essay on difficult times teaching valuable lessons; with discussion, notes, model answer and vocabulary practice
This IELTS Writing Task 2 post offers the insights of writing a great answer to an agree-disagree topic. This agree-disagree topic asks the candidates to provide logics on difficult times teaching us valuable lessons. In this post, you will find a discussion and notes that can help you build up ideas.  You will also find a great model answer and some vocabulary practice that can help you build your own answers for other topics.
Let's have a look at the question first: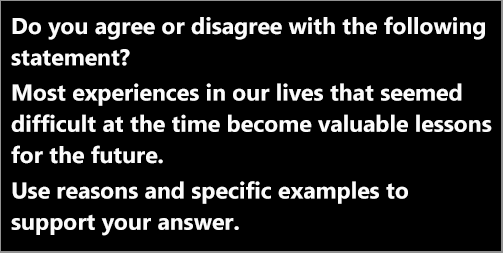 Notes on the topic:
Here is a note on the given topic which may help you to write the answer effectively.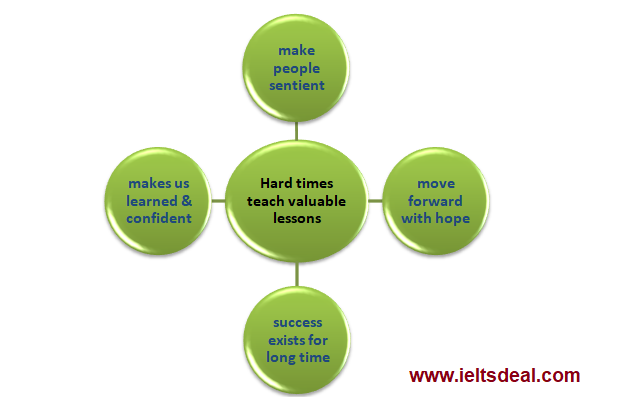 Here is a good model answer based on the provided notes which you can follow:
Difficult times are an integral part of our life, no matter who we are or whatever our positions are in the world. Nobody wants to face problems in life but apparently it is the hard times of our life which make us stronger than ever. From my personal life experience and observation, I must agree with the given opinion that the tough experiences in our life come handy in building and shaping our future and this will be discussed with relevant examples in the following paragraphs. 
Initially, thorny incidents in life make people sentient which keeps them alert about repeating blunders. When people face hard times, their ideas and contemplations change about it and they can face the same problems better in the later phase. As an example, we can take into account different diseases which we have to suffer from. A person who suffered from typhoid in his early life becomes conscious of it and the same disease cannot harm him much if he faces it again. The same thing goes for our failures in life which makes us learned.
Besides, previous hardships teach us to move forward in the hope that something better is waiting on the other side. It is often noticed in the record of human civilization that people have lost quickly what they have accomplished easily without much trouble. Money earned from gambling can be cited here as a great example. On the flip side, hard-earned matters have existed for a long time. Companies like Google, Apple, and Facebook are the most eminent examples of such sort. The founders of these companies had to face hard times in their life which made them create such magnificent companies that have not only shaped their lives but also shaping our lives.  
In summary, I consider that the evolution of human civilization is a result of regular and steadfast endeavours which are based on our previous experience and knowledge gained from complexities.
(323 words)
Vocabulary practice:
Here is a list of vocabularies used in this task 2 answer:
Integral (adj.) – essential, vital, connected,
Apparently (adv.) – seems to be, in fact, evidently,
Tough (adj.) – hard, difficult,
Handy (adj.) – useful, helpful,
Relevant (adj.) – pertinent, related,
Initially (adv.) – at first, at the outset, firstly,
Thorny (adj.) – difficult, hard,
Sentient (adj.) – conscious, alert, aware,
Alert (adj.) – aware, vigilant,
Repeat (v.) – do again, recur
Blunder (n.) – mistake, error,
Contemplation (n.) – thought, observation,
Phase (n.) – period, time,
Learned (adj.) – educated, well-read, skilled,
Notice (v.) – perceive, note, detect,
Record (n.) – history, proof,
Accomplish (v.) – achieve, complete, get done,
Trouble (n.) – problem, dilemma, difficulty,
Gambling (n.) – betting,
Cite (v.) – mention, quote,
On the flip side (adv. phrase) – on the other side, on the other hand, conversely, on the contrary,
Hard-earned (adj.) – well-deserved, highly deserved,
Exist (v.) – be, live,
Eminent (adj.) – famous, popular,
Founder (n.) – creator, organizer, inventor, maker,
Magnificent (adj.) – splendid, superb, wonderful,
In summary (adv. phrase) – to sum up, in brief, in fine,
Evolution (n.) – progression, development,
Steadfast (adj.) – unwavering, resolute,
Endeavour (n.) – attempt, effort,
Complexity (n.) – difficulty, complication,
I hope that this post has helped you in your IELTS Writing Task 2 preparation. Please, comment below if you have any questions regarding any issues related to IELTS.
Click here for a model answer to Cambridge 14 Test 4 Writing Task 2
Click here for a model answer to agree-disagree topic: elderly or young people as company leaders
Click here for a model answer to advantage-disadvantage topic: online shopping
Click here for a model answer to opinion essay: urbanization in countryside/ problem of housing
Click here for a model answer to opinion essay: qualities of a good supervisor/boss
If you think the post is helpful, please follow and like us: