IELTS AC & GT; Writing Task 2: opinion essay on urbanization in countryside/ problem of housing: ; with discussion, tips and a great sample answer
This IELTS Writing Task 2 post offers the insights of writing a great answer to an opinion topic. This opinion topic asks the candidates to provide opinions on the logic of urbanization in the countryside. In this post, you will find a discussion and plans that can help you build up ideas.  You will also find a great model answer which can help you build your own answers for other opinion topics.
Let's have a look at the question first: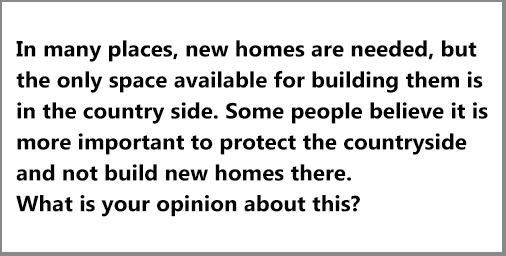 Now let's think about the topic and develop some ideas.
This model answer shows two major points:
why it would be difficult to stop urbanization in villages 

why it is important to keep the countryside intact
It also provides a solution to this problem of housing and expansion of cities:
Building skyscrapers in established cities and towns
TIPS: You need to use the question paper to write your own ideas in short; this will help you when you start your writings and give it a smooth flow. Remember that you always need a 3/4 minute-plan to write a 250-words+ essay. So, don't forget to write your ideas first on the question paper with a pencil. 
Now let's have a look at the sample answer:
The demographic trend of the present world has experienced a boom after the Second World War and since then housing for this massive population has been a serious issue for different nations, mostly the developing and undeveloped countries. Unfortunately, more new habitats cannot be established in cities and towns and the countryside is taking the toil. This essay agrees with the given statement and the following paragraphs will provide details on why it would be difficult to leave the countryside out of urbanization and yet we have to try our best to keep it natural.
Since the Industrial Revolution, rapid urbanization has touched almost all the major and semi-major cities of the world and all of them have expanded swiftly. The main reasons are the modern amenities provided in the cities such as automated clean water and electricity supply, digital technology such as broadband internet service through strong Wi-Fi networks and home deliveries of food and other daily necessaries. Due to the massive surge of population in cities, the authorities have been bound to expand the cities in a 360⁰ radius so that the incoming people can be housed. A recent study on worldwide urban sprawl shows that the area of our world covered by urban settlements will be augmented to more than 3 million sq km by 2050. Additionally, many villages of the world have been converted to small towns as it is a brutal fact that no one wants to live in a place without good facilities.
However, if this continues, breathing fresh air and spending some pleasant time will be impossible for us and this will affect human civilization adversely. Scientists are already worried about global warming and they opine that the countryside should be protected for our own sake. We need to plant more trees than ever so that the level of hazardous gases created by urbanization can be reduced. Though it will be a humongous challenge for us, we must try heart and soul to keep the villages intact. Building skyscrapers like Dubai and Abu Dhabi can be another good option for major cities as they can house a larger number of people without expanding by building new housings.
In conclusion, I would stress that turning the countryside into towns by building new homes should be considered in a systematic way by the concerned authority so that it can provide people with the latest amenities but without harming the local environment and biodiversity.
Did you like the model answer? What bandscore can you give for this answer? Let me know in the comments. 
Here are some other Task 2 essays for your better practice:
Click here for a model answer to Cambridge 14 Test 4 Writing Task 2
Click here for a model answer to agree-disagree topic: elderly or young people as company leaders
Click here for a model answer to advantage-disadvantage topic: online shopping
Click here for a model answer to opinion essay: urbanization in countryside/ problem of housing
Click here for a model answer to opinion essay: qualities of a good supervisor/boss
Click here for a model answer to descriptive essay: advantages/facilities/benefits of vocational education 
If you think the post is helpful, please follow and like us: