IELTS Speaking Part 2: Topic card; describe when someone gave you something you really wanted/ talk about a time when you received money as a gift; with discussion, notes, bonus tips, model answer & part 3 questions
This IELTS speaking part 2 topic is a recent one that appeared in the exam, and it is quite an easy topic card to talk about. We often get money as a gift and most of the time it is something we want. The title of the topic card can be  'Describe when someone gave you something you really wanted' or 'Talk about a time when you received money as a gift'. You will find some discussions, bonus tips, notes, a model answer and some part 3 questions on the given topic card. Hopefully, this sample answers will help you to prepare for the cue card and some other cards as well.
Let's have a look at the topic cards first: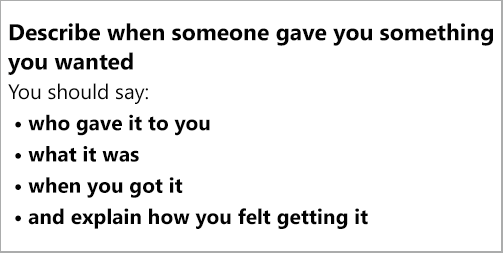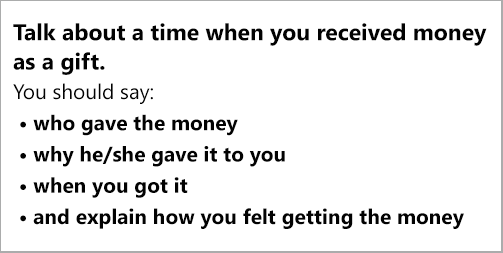 To talk about this topic card, we need to think quickly about a situation when people receive gifts and take some background notes.
People receive gifts mainly on big occasions like:
Birthday party

Marriage anniversary

Wedding ceremony or

Festivals
Why people give gifts:
To show their feelings

To show that they care about someone

To make the day special to remember
How people feel when they receive gifts:
Surprised

Emotional in a positive way

Happy

Excited

Motivated / inspired

Positive
Why people get money as a gift:
To cover the expense for education

To fulfill a cherished desire

To buy something he/she wants for a long time

To fulfill basic needs
BONUS TIPS:
Now you can think about some more points and arrange your ideas on how to deliver a 2-minute speech on the topic card. Remember that you need not write too many points on the note. Just write some vital and special points which you can use to deliver your talk easily. Here is a sample note that I've prepared: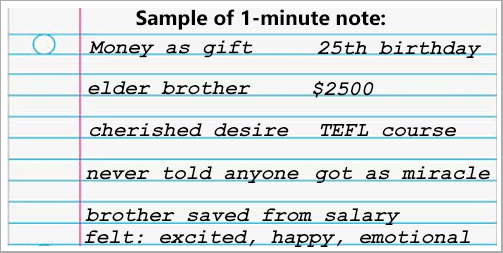 Sample answer:
Thank you for this cue card. Generally, I don't have a lot of problems in my life and I do not require asking people for something to give to me. And yet I remember special situations when I received different things from people around me, mostly from those who care for me a lot. I'm going to describe such a situation when I received something special from a very important person in my life. Most interestingly, I needed that thing to fulfill a long-cherished desire and it came to me very unexpectedly as a gift.
Like every year I celebrated my 25th birthday party with my family members and some close friends a month ago. Though I don't have any personal yearnings for this celebration, my family members and friends have never missed the chance to commemorate the day by arranging a small party either in my house or in a small resort close to my hometown.
Anyway, this year I received many presents such as postcards, books, pens, some woodcraft, and many other things. However, the gift that really gave me a pleasant shock came from my elder brother. My brother is just a couple of years' senior to me and we've always had a close bond just like best friends. Naturally, he is a very shy person and doesn't like to talk a lot. He doesn't like programs and parties like me. He came to the party just to wish me good luck and gave me a green envelope. I felt happy because green is my favourite colour. He told me to open it and when I did so, my heart started pounding fast. I couldn't believe my eyes. It was a cheque of $2500. I immediately asked him about the reason for presenting me that sort of a gift. He responded with a big smile that he had been saving some money for me from his salary so that I could do something special with that. Most interestingly, I needed that money to pursue my TEFL course in a renowned institute but I had never talked to anybody about it, not even with anyone in my family. It was like a miracle for me. The money came to me from one of the persons whom I adore most and at the same time respect just like my parents. I started crying as I could not control my emotions. I had never been in need of money like that to fulfill one of my wishes and I didn't even have to ask for it to anyone. My brother gave me the biggest shock and coolest surprise on that evening.
Later, I talked about the gift to my parents and other family members and all of them were very happy to see me so excited and happy. My parents were quite proud of my brother that he had such a great heart and presented me something that I needed most.
That was the most surprising thing that happened to me yet and I shall never forget it for sure.
Thank you.
Speaking Part 3 questions based on the topic card:
What sort of gifts is the most popular in your country?

Do you think to receive and to present gifts play an important role in our social life? Why/ Why not?

What are the other ways to show affection and love to someone?

How was the gift-giving culture in your society 20 years ago?

Will there be a change in gift-giving convention after 20 years?
Here are model answers to some other topic cards for your preparation:
A sport or exercise that you do for fitness
Describe a handsome person you know
Describe someone you know who does something well
Describe a situation when you were late
Describe an important decision made by you
Describe the best gift or present you have received
Describe something that helps you concentrate 
If you think the post is helpful, please follow and like us: