IELTS Speaking, cue card: A situation when you were late; with model answer and part 3 questions
Today's post is about the IELTS Speaking module. I'm discussing here a model answer for Speaking Part 2 or a cue card. It's quite a common cue card which is A situation when you were late. I hope this post helps you reorganize your answer if you have any problem with how to say 2 minutes on this topic.  Take a close look at some uncommon vocabulary such as inadvertent, unique, dwelling, immobilized, toil, etc.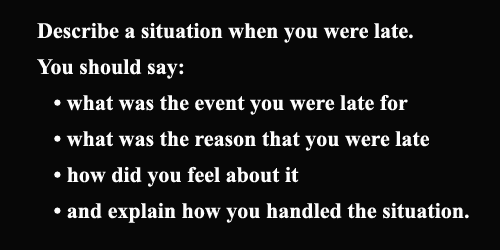 Model Answer:
I am not usually late for any work. Yet, sometimes I face problems maintaining time for different reasons. I am going to talk about such a situation when I was late for a very important job. It was completely inadvertent. I was suffering from a toothache and I booked an appointment with my dentist. Unfortunately, I missed the appointment. It was one of the most disgusting and disappointing moments of my whole life.
On that very day, I woke up late in the morning because there was a unique holiday at my workplace and I thought that having a good sleep would cheer my mood up as I had to wake up long at night for my work. So, I woke up at around 9 in the morning. This was a big mistake. The chamber of my dentist was about 2 miles from my dwelling by car. I took my car and just when I turned left to B12 or the highway I saw great traffic in front of me. Then, I wanted to turn back but it was too late and I was in the middle of a long queue of traffic. This was the point when I started to panic because I knew I was going to miss my appointment which was due at 10.30 am.
I felt completely immobilized at that very moment and thinking of what to do. But the traffic jam was so notorious for that region that I had nothing to do but wait. My toothache was increasing at a fast rate. After almost an hour, when I found a little gap, at last, to go ahead, I made a quick right turn and took a different way to the doctor. But it was too late and he already left the place after waiting for an hour for me. I felt so disgusted and irritated by the late.
Anyway, I finally managed to go to a private clinic after another half an hour. But it also took toil to find a proper doctor. By luck, I managed a doctor and had my toothache problem solved. By then, I was very upset that my doctor, with whom I missed my appointment, must have felt disappointed in me. I was really unlucky about that. Later on, I talked to him over the phone and explained the situation. He understood and assured me that the same happened to him and so he knew how I felt.
That's all. Thank you.
This is the end of the model answer.
This model answer can also help you with other topic cards such as:
A powerless situation you faced

A very awkward moment in your life

An unwanted situation

A disappointing moment in your life

A very difficult day in your life

A sad event in your life etc.
Part 3 questions:
Why is arriving early important, in your opinion?
Some people arrive too early to keep a promise. Is that good or bad?
What happens when a person arrives late habitually?
Is it very important to arrive early in your country?
Some say that modern technology helps us to arrive early. Do you agree or disagree with that?
What is the importance of being patient?
Here are model answers to some other topic cards for your preparation:
A sport or exercise that you do for fitness
Describe a handsome person you know
Someone you know who does something well
Describe an important decision made by you
The best gift or present you have received
Describe something that helps you concentrate 
A situation when someone gave you something you really wanted
If you think the post is helpful, please follow and like us: