IELTS AC & GT Writing Task 2: descriptive essay on the advantages/benefits/facilities of vocational education; with discussion, essay structuring, notes and model answer
This IELTS Writing Task 2 post offers the insights of writing a great answer to a descriptive topic. This descriptive topic asks the candidates to provide the advantages/facilities/benefits of vocational education. In this post, you will find a discussion and notes that can help you build up ideas along with essay structure.  You will also find a great model answer that can help you build your own answers for other topics.
Let's have a look at the question first: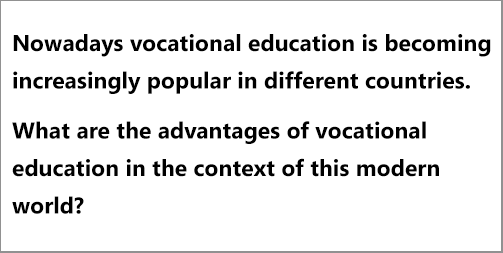 Structuring an IELTS essay:
Below is a typical IELTS essay structure that you can use in most of the essays.
INTRODUCTION: Paraphrase the title of the question and provide a thesis (what the next paragraphs will discuss) – 40-60 words
BODY PARAGRAPH 1: Main idea no. 1 with relevant examples and explanations – around 90-100 words
BODY PARAGRAPH 2: Main idea no. 2 with relevant examples and explanations – around 90-100 words
CONCLUSION: Restate the ideas and summarize the topics along with personal opinion – 40-50 words.
NOTES:
The question asks us to describe some advantages of vocational education. So, we can discuss two main benefits of occupational educational/practical education and before writing a conclusion we can add a short paragraph on some other benefits.
Vocational education is becoming more and more popular around the world. There are some important reasons for this. Let's think about some ideas (benefits/advantages/facilities) about vocational education. 
Here's a note that can help you: 
Can these ideas help us write a good answer to this question?  
Here's a model answer that you can follow:
Most education systems around the world have two common streams, academic and vocational. However, the demand for vocational courses has been rising dramatically for the last couple of decades. This essay will show the benefits of taking vocational education with relevant examples.
One of the prime advantages of vocational education is that it gives a more practical approach in the pupils' minds. Statistics on job market shows that many high school and college graduates remain unemployed due to their lack of practical knowledge in different subjects. Work-related education is all about learning every subject practically. For example, one of my cousins has recently been able to secure a high-profile job in the automobile industry due to realistic knowledge gained in his vocational school where he had to take a diploma in automobile technologies as a non-major course.
Furthermore, nowadays the world is getting more and more successful entrepreneurs due to the competence of occupational education. We know that most of the entrepreneurs have become successful because of their theoretical and practical knowledge in their own fields. To illustrate, Bangladesh, a developing country of South-east Asia has produced many successful entrepreneurs as the government has lately given importance in her vocational education sectors. Many young high-school graduates have become news headlines and leading the job industry in the country as their vocational education has guided them to reach the top.
Although academic knowledge is quite essential, vocational knowledge provides students with skills and in-depth comprehension about diverse subjects which turn into the contributory factors in acquiring a prestigious job or start a unique business.
In fine, every country must give equal importance in academic and vocational education and include occupational education compulsory at the high-school level. Only then a country can produce skilled manpower which will not become a burden for the country, rather the burden will transform into assets.
Word count: 307
I hope that this post has helped you in your IELTS Writing Task 2 preparation. Please, comment below if you have any questions regarding any issues related to IELTS.
Click here for a model answer to Cambridge 14 Test 4 Writing Task 2
Click here for a model answer to agree-disagree topic: elderly or young people as company leaders
Click here for a model answer to advantage-disadvantage topic: online shopping
Click here for a model answer to opinion essay: urbanization in countryside/ problem of housing
Click here for a model answer to opinion essay: qualities of a good supervisor/boss
Click here for a model answer to problem-reason-opinion essay: language extinction/endangerment 
If you think the post is helpful, please follow and like us: