IELTS AC & GT Writing Task 2: problem-reason-opinion essay on language extinction/endangerment; with discussion, essay structuring, notes and model answer
This IELTS Writing Task 2 post offers the insights of writing a great answer to a problem-reason-opinion topic. This problem-reason-opinion topic asks the candidates to provide the reasons and opinions about endangered languages or languages facing extinction. In this post, you will find a discussion and notes that can help you build up ideas along with essay structure.  You will also find a great model answer that can help you build your own answers for other topics.
Let's have a look at the question first: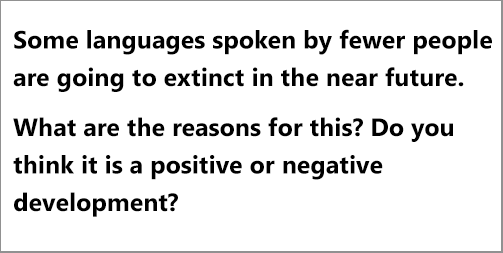 Structuring the essay:
Below is an essay structure that you can use in this type of essay.
INTRODUCTION: Paraphrase the title of the question and provide a thesis (what the next paragraphs will discuss) – 40-60 words
BODY PARAGRAPH 1: Two reasons with relevant examples and explanations – around 90-110 words
BODY PARAGRAPH 2: Your personal opinions with relevant examples and explanations – around 80-100 words
CONCLUSION: Restate the ideas and summarize the topics along with personal opinion – 40-50 words.
NOTES:
The question asks us to discuss the reasons of language extinction. So, we can discuss two main reasons for language endangerment/language extinction and before writing a conclusion we have to add a paragraph on our opinion about the issue. 
Many languages of the present world and already disappeared and many are on the verge of extinction. There are some crucial reasons for this and it is a negative development indeed. Let's think about some ideas (the reasons and your opinions) about language extinction. 
Here's a note that can help you: 
Can these ideas help us write a good answer to this question?  
Here's a model answer that you can follow:
Language has been the finest mode of communication since the dawn of modern human civilization. According to infoplease.com there are around 6500 spoken languages in the world but unfortunately and most shockingly about 2000 of these languages have less than 1000 speakers and they are on the verge of extinction. I feel that losing any language is not a good sign and this essay will look at the causes of this issue as well as clarify my point of view.
Many native tongues of the world are on the brink of annihilation because of the two foremost causes. The first one is the recent technological advancements in different fields. In other words, many countries of the world now mainly communicate in English, Spanish, French, Mandarin, and some other major or leading languages due to the advancement brought by technologies. For example, most automated machines are programmed to understand the major tongues which induce people to learn those common languages. The other reason behind language endangerment is the creation of a powerful incentive for individuals to discard their mother tongue in favour of prestigious languages like English, Spanish, or French. For instance, from my personal life experience I have seen guardians encourage their children to speak in English not only in school but also in playgrounds and houses as English has a big career focus.
However, I strongly agree with the provided notion as I believe that leaving a native tongue gradually means that the language will disappear soon. When a language vanishes, it also takes away the customs, cultures, and identity with it and this slowly uproots the entire community. As different tongues unveil cultural and historical meaning, we lose a link to the past when we lose a language.
In fine, languages represent races, customs, and identities of different parts of the world and take a humongous amount of time to enrich. Losing them should not be accepted; and so planned and integrated approaches are essential to prevent this loss to protect the culture, identity, and history of people associated with those languages.
Word count: 340
I hope that this post has helped you in your IELTS Writing Task 2 preparation. Please, comment below if you have any questions regarding any issues related to IELTS.
Click here for a model answer to Cambridge 14 Test 4 Writing Task 2
Click here for a model answer to agree-disagree topic: elderly or young people as company leaders
Click here for a model answer to advantage-disadvantage topic: online shopping
Click here for a model answer to opinion essay: urbanization in countryside/ problem of housing
Click here for a model answer to opinion essay: qualities of a good supervisor/boss
If you think the post is helpful, please follow and like us: