IELTS Speaking Part 2: Cue card; A street market in your city; with notes and model answer
This IELTS speaking part 2 topic is a recent one and it is a very easy topic card to answer because almost everyone knows a street market from their place of living. The title of the topic card is "A street market in your city". Shopping is a very usual matter and it is considered as a great culture of a country. The answer provided here is a band-7 standard. Hopefully, this model answer will help you to prepare for the cue card and some other cards as well.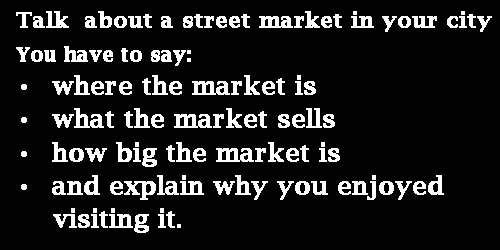 Notes for answering the card:
Point no. one: Name and location: Gulistan Street Market; capital-Dhaka; near Bongobondghu
National Stadium,
How big: one of the largest, humongous place, 2000 shops, 20,000 workers,
Products that sell: clothing, footwear, ornaments, etc.
Why I enjoyed: the chance of haggling, the timing
Sample answer:
The Gulistan street market is probably one of the most renowned street markets in Bangladesh. It is located in the heart of our capital city of Bangladesh which is known as Dhaka. Bangabandhu National Stadium is in the vicinity of the market. Once, during the Mughal Empire, it was the biggest flower market, hence the origin of the name "Gulistan" as it means "flower garden". For this topic card, I'm going to talk about this wonderful street market.
As Dhaka is one of the most populous cities in the world, Gulistan is always an extremely busy place. There are some large buildings in this place, which are also parts of a street market, including the underground. The road is always busy with hawkers, endlessly moving rickshaws, buses, bikes, and automobile traffic, and the outpouring of restless men and women.
This market is a humongous place and the best market for low-income people. You can't find a lot of rich people visiting there. Most of the products there are targeted at poor and lower middle-class people in Bangladeshi society. Gulistan Street market covers more than 2000 shops where at least 20,000 people work. So, undoubtedly, it is an extremely big, busy, and noisy place. You can find hawkers chanting for special discounts all the time. You can see customers haggling for the best price and shoppers trying their level best to convince customers to buy their products.
Low-price clothing, lungi, toweling, shalwar-kameez, sari, footwear, cheap ornaments, watches, sunglasses, kids' wear, garments, and fashion products, all are sold in this large market. As the price is very low here; the risk of being cheated by shoppers always remains as there is no guarantee about the quality of the products.
I enjoy visiting it for two special reasons; the first one is the low price and getting the chance to haggle. I like doing such kind of shopping and it is a great opportunity to win products at a very low price. The second one is the timetables. There is no holiday in Gulistan, not even on Fridays. It starts at 8:00 am and remains open until 9:00-9:30 pm.
If you think the post is helpful, please follow and like us: