Speaking part 1 topic: Books
IELTS speaking topic: Books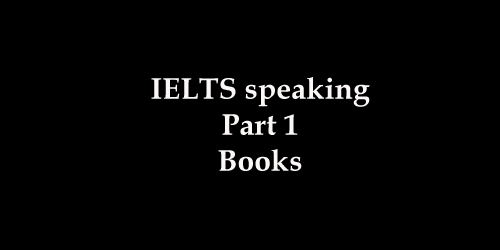 Do you do a lot of reading?
Yes, I do. I am fond of reading books in my free time.
What kind of books do you enjoy most?
I typically like to read novels. I'm not sure about the actual reason but it is interesting to read about people's lives represented by some characters, especially when they have had interesting lives and have had to deal with many problems. I do read biographies and short stories too, but I often find it complicated to understand those books. I also like reading about books which deal with current issues.
What about your childhood? Do you read the same kind of books now that you read when you were a child?
Well, not really, no. In fact, I didn't go through that much when I was a child, but if I remember that I read mostly fiction books, such as rural tales or comics. I still recall reading The Batman, The Superman with my elder brother. We used to have competition over reading.
In your opinion what time is the best to read?
In my opinion the best time to read a book is any time, given that I can concentrate. If I can't concentrate, the quietest place will come to no use. But, some people prefer night time as the nocturnal life is quieter than day time. I have built up a habit of reading before going to sleep.
Some common questions about books and reading:
How often do you read? / Do you read regularly? / Is reading your habit?
How does a book help you?
Do you believe that we should inspire our children to read books? Is it a good idea?
What kind of book is your favorite? / What's your favorite kind of book?
Do you like to read e-books? / Is it good idea to read e-books?
Do you like to read newspapers? / How often do you read newspapers?
What kind of books did you read when you were a child? / Do you remember any book from your childhood?
IELTS students should try on their own to solve these questions. If you face any problem regarding these questions, please comment specifically and I'll provide you the necessary solutions.
If you think the post is helpful, please follow and like us: