An overview of the IELTS Listening Test; with discussion
The IELTS listening test is a 40-minute test and the band score for this test is 9. It is divided into two segments.
First 30 minutes: In this approximate time, you have to listen to 4 different recordings and answer 40 questions in 4 sections on a booklet. This booklet is called the Listening Question Booklet.
Final 10 minutes: During this exact time, you have to transfer your answers from the Listening Question Booklet to the Answer Sheet.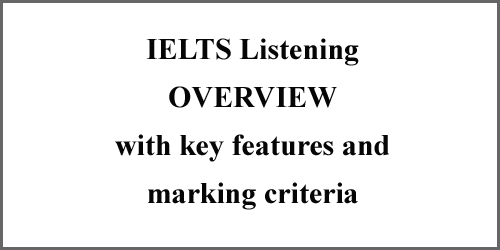 Types of recordings:
All the recordings are either a monologue (one speaker), dialogue (2 speakers), or conversation/ discussion (3 or more speakers).
Recordings in Part 1 and Part 2 are based on themes of social/ general needs or interests. It means that you should expect recordings of people talking about opening an account, admission, hiring a thing or a person, booking something, guided tours, and so on.
Part 1 is a dialogue whereas Part 2 is a monologue.
Recordings in Part 3 and Part 4 focus on education or training matters. It means that you should expect recordings of discussions between students and teachers, about an invention, theory, discovery, survey, and other related topics.
Part 3 is generally a conversation concerning 2 or 3 main speakers while Part 4 is again a monologue on an educational issue.
Types of questions:
In the IELTS Listening test, a set of questions is selected from the following types.
Multiple choice questions

Completing forms

A plan/a map/a diagram labeling

Completing tables

Matching items

Sentence completing

Completing notes

Completing flow-chart

summary completion etc.
Key features of the Listening Test:
The four sections will gradually become difficult. It means the first section is the easiest and the last one is the hardest.

There are 10 questions for each section.

Each question is worth 1 mark.

The recording will only be played You will not hear it again.

So, you have to write the answer as you listen.

The answers will be very short. You need not write long sentences.

There is no minus-marking or fraction-marking.

You cannot use a pen for this test. Using a pencil (2B or HB) is mandatory.

Making mistakes in spelling, grammar, and special punctuation marks will surely result in a penalty.
How the test is marked:
It is a test designed by Cambridge University, and conducted by The British Council, and IDP Australia. So, it's a guarantee that the Listening test is marked by registered markers, who are repeatedly supervised to make sure their consistency. When they finish marking, all the answer sheets are additionally examined by Cambridge Assessment English. This is the reason why IELTS is so popular around the world. We can depend on it.
How the band score is converted:
Candidates of the IELTS Listening Test get a score on a band score ranging from 0-9. The 40 questions carry one mark each. There are whole bands and half bands according to the score of 40 marks.
The following table of scoring can be helpful for a better understanding of the scoring.
Listening band score

out of 9

Listening exam marks

out of 40

9

39-40

8.5

37-38

8

35-36

7.5

32-34

7

30-31

6.5

26-29

6

23-25

5.5

18-22

5

16-17

4.5

13-15
Cambridge IELTS 12 Test 4: Complete Speaking Test with answers
Click here for solutions to Cambridge Test 6; complete Speaking test
IELTS Speaking Part 2: A teacher who has greatly influenced your academic life
Cambridge IELTS 12 Test 5; complete the Speaking test with model answers
Use of cohesive devices/ connectors/ linking words in IELTS
IELTS Speaking Part 2: Something useful you learned from your family
6 IELTS Preparation Tips for Reading Section
IELTS Reading: 10 steps which helped me to score 8.0 in Reading
Strategy for IELTS Reading: TRUE, FALSE, NOT GIVEN or YES, NO, NOT GIVEN
If you think the post is helpful, please follow and like us: