IELTS Reading: 10 steps which helped me to score 8.0 in Reading
As an IELTS trainer, I face these questions all the time. "What could possibly make you so skilled in IELTS Reading?" "How did you become an expert in Reading module?" "What programs did you take to become skilled in Reading?" And most of the time I give answers which puzzle my students or audience. I was afraid of making a poor score in Reading and that made me some sort of expert. It's true and it worked instantly the first time I appeared in the IELTS exam, I scored a band score of 6.0 in Reading and the next time I appeared it became a band score of 8.0. I did it by making my fear my greatest motivation. I followed 10 simple and complex steps to become an expert in the Reading module.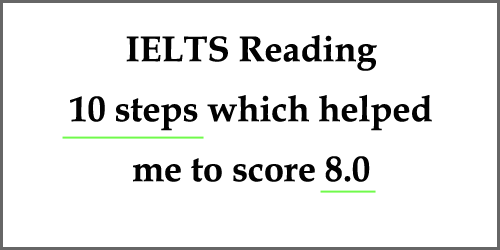 I would like to share the ideas with you so that you can also try them and see if they work for you.
Make a routine and follow it strictly: You must make a fixed routine to do Reading practice every day. You can divide your time between morning, afternoon, and evening and practice different question patterns. It doesn't need to be a long-time practice but you should make a habit of practicing Reading modules every day, no matter what happens.
Use your current position in English to move forward: As a student of IELTS, you should, by this time, know your current position in the English language. Use this knowledge to move forward. Don't panic if you are too weak. I myself scored a grade of D- in my first IELTS preparation class. But, I studied sincerely, and now I've improved better than ever.
Maintain a balance with other modules: Maintaining a balance with the other three modules can benefit you immensely. By maintaining balance I mean not overdoing yourself in Reading. It means that I can practice reading modules for 4 hours a day, but I should also practice Listening, Speaking, and Writing at least 1 hour a day. Thus, the balance is maintained properly.
Learn some words every day: It is absolutely important to enrich your English vocabulary. For many people, it is the most boring and tiresome work. But you can learn vocabulary in different fun ways. I did different activities to learn vocabulary like targeting 10 words every day, learning words of the same subject arena, and making sentences with new and uncommon words.
Use other modules to practice Reading: This is a kind of practice that helped me directly in Reading. You know that IELTS has four modules and you need to practice them equally. So, what I did was merge the modules into my practice. For example, I learned uncommon words and new sentence patterns not only from the Reading module but also from other modules too. I still remember some words which I practiced in the Writing module and I found them in the Reading module.
Learn some basic sentence structures: You can also learn some basic sentence structures from a good grammar book or online. If you can manage to learn some different sentence patterns, it will quickly develop your skills in Reading. At present, there are hundreds of lessons on youtube.com that you can watch and practice.
Take a short personal mock test every 3 or 4 days: You can arrange a short personal mock test every 3 or 4 days. You can appear in short mock tests like Only Reading Passage 1 of Cambridge 12 test 1. Set a timer for 20 minutes and see how much progress you have made since the last time you appeared in such a test. This will also increase your confidence slowly.
Maintain a progress list: You must maintain a progress list in your tab, Mac, pc, or notebook. Check what you have achieved and what you couldn't. Then, make an attempt to advance your progress further.
Recap whatever you've learned: You have to recap the new words or sentence patterns you have learned. You should also reappear in your mock tests where you've done big mistakes. Thus, you can remember them when you appear in the exam.
Face your fear bravely: The final thing to say is that you should face your fear of reading bravely. You don't understand any words of the Reading Passages. It's ok, the same happens to hundreds of students. But you should not make a U-turn from there. Rather, try to learn the words from a dictionary, different books, or online and then appear in the test again. You fail again. You try again.
Always remember, progress means not stopping but going forward with all the problems you have. Your problems will leave you if you don't stop.
6 IELTS Preparation Tips for Reading Section
IELTS Reading: 10 steps which helped me to score 8.0 in Reading
Strategy for IELTS Reading: TRUE, FALSE, NOT GIVEN or YES, NO, NOT GIVEN
If you think the post is helpful, please follow and like us: