IELTS Speaking part 2: Cambridge 12 Test 2, waiting for someone
Thanks again for being with this blog You rock because you are patient and want to learn. So, today I'm providing another sample answer for the IELTS Speaking Cue Card section. I've picked a cue card from Cambridge IELTS 12. In Test 2, you will find a cue card entitled An event when you had to wait a long time for someone's arrival. It's not only important but also quite tough to answer. So, here is a model answer prepared for me. You don't need to memorize it. Just go through it a couple of times. That will do for you. then, you can plan on how to change the answer according to your situation. So, let's have a look.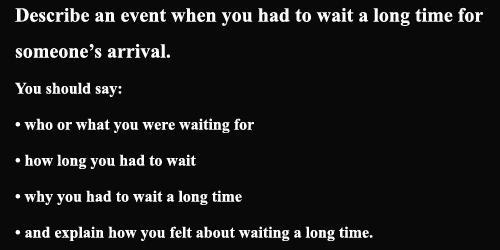 Model answer:
Thank you for this topic card. I'm going to describe such an event when I had to wait for hours for one of my cousin's arrival. As far as I can remember, it was nearly 5 years ago. I used to work in Paris at that time as a project manager for the company where I work now. I planned with my cousin and her husband from Italy that we should meet somewhere in between. We decided to meet in Bern, Switzerland, and then visit some tourist places together and stay in the same hotel. Amazingly, I had a weird feeling that something like a small mix-up might happen at this meeting.
Sadly, my journey didn't start well and on the way from Paris to Bern, my flight had been delayed two times and I arrived in Bern 8 hours later. I was an alien in that new city. I knew no one there and had to struggle with the language so much because I couldn't find a person who could understand me. I reached Ambassador Hotel after a lot of trouble. Anyway, my cousin also faced the same problem co-incidentally. I gave her the location of the Ambassador Hotel. But when I reached there, the receptionist informed me that they didn't check in yet. I became confused and frustrated. After waiting in the lobby for about an hour, I started panicking for my cousin and my brother-in-law. I waited for one more hour and then decided to start looking for them at the airport.
Luckily, I met a very generous couple in the hotel who were also from Paris. The gentleman came forward and assured me that nothing bad would happen because Bern was a very safe place for tourists. He advised me to pass some time with him and his wife in the lobby. After 2 and a half hours of waiting, I heard someone calling me from behind. I looked behind and saw them waving at me. I felt so much relieved at that time.
I don't mind waiting for someone but this was one of the most terrible experiences for me. It's because both my cousin's family and I were new in Switzerland. So, I was having trouble as I was thinking about so many bad things. Finally, after looking at their faces I became myself again. I hope it doesn't happen to me or anyone anymore. Thank you.
That's the end of the model answer.
You can cover some other similar cue cards using this model answer such as:
A frustrating situation you faced

An awkward situation

A late arrival to somewhere new

A confusing day of your life

A delayed visit to somewhere

A helpless situation

A long waiting

An occasion when the time was against you etc.
Now, here is a bonus tip for IELTS Speaking:
Always maintain eye contact with whoever you speak to. Practice it because, on exam day, it will come in handy.
Thanks again for being with us. I'll see you soon in the next posts. Keep practicing.
Cambridge IELTS 12 Test 4: Complete Speaking Test with answers
Click here for solutions to Cambridge Test 6; complete Speaking test
IELTS Speaking Part 2: A teacher who has greatly influenced your academic life
Cambridge IELTS 12 Test 5; complete the Speaking test with model answers
Use of cohesive devices/ connectors/ linking words in IELTS
IELTS Speaking Part 2: Something useful you learned from your family
6 IELTS Preparation Tips for Reading Section
IELTS Reading: 10 steps which helped me to score 8.0 in Reading
Strategy for IELTS Reading: TRUE, FALSE, NOT GIVEN or YES, NO, NOT GIVEN
If you think the post is helpful, please follow and like us: