IELTS Speaking, Cambridge 12 Test 3: A famous actor from your country
Hello dear IELTS takers, it's really nice to see you here. Today, I'm sharing with you a very common topic card from CAMBRIDGE 12 Test 3 Speaking Part 2. It is A famous actor from your country. Many IELTS takers have got it as their IELTS Speaking Cue card. So, taking some preparation may come in handy for you. I've prepared this model answer which can hopefully meet your expectation. Always remember that you can change the names and related information in the answer as per your situation.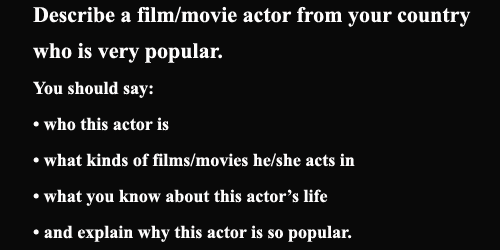 Model answer: 
Thanks a lot for the cue card. I personally like to watch movies from different countries of the world like the UK, USA, China, India, Iran etc. I mostly like action and adventure movies. So, I am going to talk about an actor from my country who is an action hero. He is the world-famous Mission Impossible Man, an American actor, and producer, Tom Cruise.
Known professionally as Tom Cruise, his original name is Thomas Cruise Mapother IV who was born on July 3, 1962. He started his Hollywood career at age 19 in the movie named Endless Love. But his career took a sharp turn and cemented his position in Hollywood as a superstar when he did his part in the movie Topgun.
Cruise has become a sensation for his character as IMF agent Ethan Hunt in the Mission: Impossible film series since 1996, Most recently the series released its newest film, Mission: Impossible – Rogue Nation, in 2015. He has also become famous for Jack Reacher sequel. He became the highest-paid actor of Hollywood in 2012. At present, he is one of the top-grossing actors around the whole world.
He has been selected for three Academy Awards or the Oscar and has won three Golden Globe Awards. He was awarded Golden Globe Awards in 1990 for Best Performance by an Actor in a Motion Picture in Drama for the movie "Born on the Fourth of July". He also got the Best Performance Award in 1997 by an Actor in a Motion Picture in Comedy/Musical for "Jerry Maguire"; and Best Performance Award in 2000 by an Actor in a Supporting Role in a Motion Picture for "Magnolia". He had three marriages in his life but all ended in divorce. He is a father of three according to Wikipedia.
His action movies actually brought him into the limelight. His gift of acting has guided him to contribute in different kind of films that you can imagine, being from the most peculiar character, a crazy troubled, rogue, and even romantic hero. But the movie which I admire most of Cruise is The Last Samurai. In this movie, he showed his genius of acting mingling with a completely foreign custom. This movie was also a career-shifting work of Cruise.  In 2003, he was awarded AFI Movie of the Year Award for "The Last Samurai" and Empire Award for Best Actor for his role in "Minority Report".
It is undoubtedly true that there are more genius actors than Tom Cruise. But I don't want to compare him to anyone. It is because he is not only an actor but also a showcase of how a child from a poor background can become the center of the universe. He is a well-known philanthropist. Most importantly, he is a passionate actor to whom acting is everything. I think all these reasons have made him so popular.
Thank you.
That is the end of the model answer.
You can also answer some parallel cue cards using this answer such as:
An influential actor

An actor you want to meet with

An actor with a true genius

Your favorite actor

A celebrity you like

A celebrity you want to be like etc.
A Bonus Tip: Thank you for taking a look at the answer. Now, here is a bonus tip about Speaking Part 2 for you.
Always make a short plan before you start answering the cue card. You will be given a pencil and a piece of a paper to take some notes on it. Do use it properly.
Cambridge IELTS 12 Test 4: Complete Speaking Test with answers
Click here for solutions to Cambridge Test 6; complete Speaking test
IELTS Speaking Part 2: A teacher who has greatly influenced your academic life
Cambridge IELTS 12 Test 5; complete the Speaking test with model answers
Use of cohesive devices/ connectors/ linking words in IELTS
IELTS Speaking Part 2: Something useful you learned from your family
6 IELTS Preparation Tips for Reading Section
IELTS Reading: 10 steps which helped me to score 8.0 in Reading
Strategy for IELTS Reading: TRUE, FALSE, NOT GIVEN or YES, NO, NOT GIVEN
If you think the post is helpful, please follow and like us: