IELTS Speaking: Cambridge 13 Test 4; complete test with best model answers and solutions
This IELTS Speaking post covers the complete answer package for Cambridge IELTS 13 Test 4 Speaking full test. Here, I've offered answers or solutions for Part 1, Part 2, and Part 3. The candidates may make necessary changes where needed to suit the answers for their own circumstances. Hopefully, this post will be useful for newcomers in IELTS Speaking who have major difficulties in understanding the test.
PART 1
Animals
Are there many animals or birds where you live? [Why/Why not?]
Well, I live in a small town and it has an animal conservation park to the north side which is commonly known as Eco-park to the native people. A good number of animals have been kept there and many of them are now endangered. Birds of different species are also found there. But in the heart of the town, there is little chance to see a lot of animals because animals do not like the din and bustle of city life. It's both unsuitable and harmful for them.
How often do you watch programs or read articles about wild animals? [Why?]
As a nature lover, I regularly watch programs on different channels like Discovery, Animal Planet, and Nat-Geo. Every weekend I have this habit of reading articles from Animal World magazine. This magazine focuses on animal conservation programs around the world.
I think the reason for such activities is that I have a love and a special kind of attraction to wildlife and nature.
Have you ever been to a zoo or a wildlife park? [Why/Why not?]
Yes, I have.
I have had the chance to visit a wildlife park or safari park recently with my family members. It was a humongous park. I literally got lost at one point while roaming around the park. Some travelers helped me to get back to my friends. There were many things to see and a number of great activities to do there.
Actually, that visit was planned by my younger brother who was bored of visiting sea beaches and different towns and cities. So, he started looking for such a place and found one in our proximity. It was a delightful experience.
Would you like to have a job working with animals? [Why/Why not?]
Well, if I am honest with you, I do love animals but I'm not so sure about the job. There are a few reasons behind it.
Firstly, I need major training for such a job. Moreover, I like animals but fear some of them as well. In addition, I have allergies. So I'm not sure whether this job would be suitable for me or not. But, if I have a chance to do such a job, I'm sure I'll give it a try.
Part 2
CUE CARD: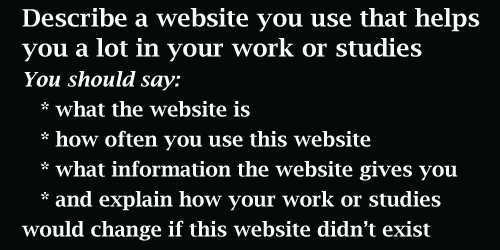 Click here for a sample answer to the cue card about a website.
Part 3
Discussion topics
The Internet
Why do some people find the internet addictive?
This is a known fact that the internet can be addictive for many people. The reasons are many but let me mention the most common reasons.
To begin, online games are the most significant reason. Gaming companies design most online games in such a way that if any boy or girl starts playing, he or she wants to complete level after level. Moreover, there are a number of websites or systems online, which allows people to earn quick money. That is another reason for the addiction to the internet.
What would the world be like without the Internet?
Well, the answer is obvious! Isn't it? The world would stop literally. All the major offices, mills, factories, and institutions will be forced to stop their work. All the business brands will collapse. We are so attached to the internet that we can do nothing without it except for some physical work. I think the world would be beyond belief without the internet.
Do you think that the way people use the internet may change in the future?
At present, we use the internet through routers or broadband lines and it's not completely free yet. I think in future new technologies will allow us to use the internet without any routers or broadband lines and we can use it completely free of charge. And the speed of search engines will increase rapidly. Let's see what happens.
Social media websites
What are the ways that social media can be used for positive purposes?
In my opinion, using social media has numerous advantages. Firstly, it can connect communities in the remote corners of the world. People can be a part of large social organizations in a city even though they live in villages. Students can use social media for group-works and famous teachers can connect with remote communities to share their knowledge. It's already used to develop business brands and entrepreneurs are taking the chance to present their skills to the whole world.
Why do some individuals post highly negative comments about other people on social media?
We know that the world has people of various mentalities and the action of a person highly depends on how his or her family brings him/her up and the influences he or she gets from different circumstances in his or her life. So, there are a number of individuals who post negative comments about others on social media to make those people aggressive and arrogant. Sometimes people do this to blackmail others and make them fall in danger. It depends on how those bad people think about it.
Do you think that companies' main form of advertising will be via social media in the future?
It is already via social media that a lot of companies are advertising their services or products. Take any big business brands for example. You will see hundreds of ads on Facebook, Twitter, Tumbler, Snapchat, Skype, and other social media sites. I think in future companies will be completely dependable on such advertisements. There is a big reason behind it, it is cost-effective. It can attract larger audiences and audiences from the remote part of the world. So, eventually, it will provide them with a major share of the profit if they advertise through social media.
Put your comments below, or any queries about IELTS Speaking test.
If you think the post is helpful, please follow and like us: