IELTS Speaking Part 2, cue card, an interesting discussion you had as part of your work or studies; with mind-mapping and model answer
This IELTS Speaking post is based on an IELTS Speaking cue card which is a discussion you had as part of your work or studies. This is a regular topic card and a number of candidates have encountered this topic in their recent IELTS Speaking test. I've offered a simple yet strong answer for this cue card here. You will also find the explanations of different vocabularies just below the sample answer to this cue card. Remember that you can make all the necessary changes in this answer according to your situation.
So, let's take a look at the cue card first.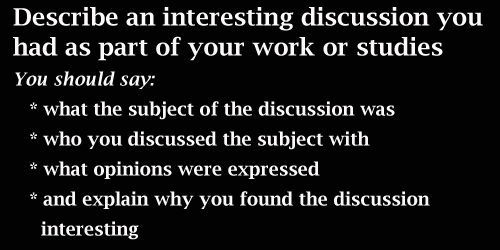 We can see here that this cue card wants us to talk about a discussion that we had as part of our work or studies. The discussion might be at our school, college or university, or work place with our classmates, friends, or colleagues. Let's make it easy and decide that we are going to talk about a discussion that we had recently with our friends about the comparison between studying abroad and studying at home country. Let's think that our teacher had given us an assignment on this comparison which he would discuss with us in the following class.
There are four points in this topic card on which we need to focus while we speak for 2 minutes on this cue card. So, we need to prepare some short notes on these points.
Here is a mind map for you that can help organize your ideas:
Here is one example which you can follow:
the subject of the discussion: study abroad vs. study in the home country

we had a discussion with our friends

some friends gave voted in favor of studying abroad, others on the opposite

opinions like study facilities, the standard of education, environment, job facilities, and career

Finally, we decided that studying abroad has more benefits than studying in home country
Your notes need not be so long like this. You can write in short using signals as well.
Some important vocabularies:
You can also write a few important vocabularies which may pop up in your mind while taking notes. For example:
overseas, issue, fascinatingly, dilemma, chance, enthusiasm, well-accepted, resources, confident, gather
Here is a note that I've prepared which can assist us in delivering a great talk.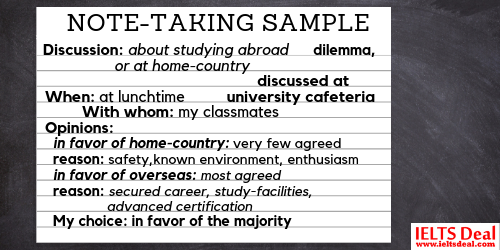 Now, let's have a look at the model answer that I've prepared for you.
Model Answer:
Thank you for the card. Like every other person, I have had many discussions on different topics with different groups of people. For this cue card, I would like to talk about a discussion at my university as part of my assignment given by our social studies teacher on the comparison between studying abroad and studying in my home country.
The discussion took place when some of my friends and I were having our lunch at the university cafeteria. One of my friends suggested that we should have a discussion on the issue so that we could have better preparation for our assignment on the following day with our teacher. Fascinatingly, I was also planning to study a one-year-long Masters course on social studies and I was in a dilemma on where to study. So I took the chance of joining the discussion, maybe more eager than all the others.
A few of my friends suggested that studying from my home country contained many benefits. For instance, we need not worry too much about our family and relatives. The environment would be also known to us and we may face less difficulty in adjusting to the situations around us. They also shared their view that it gave a student more enthusiasm and that it was safer than an alien place.
On the contrary, most of my friends concurred with me that studying overseas or in a foreign land offered more advantages than my home country. The facilities in countries like the USA, UK, Denmark, Canada, Australia, and some other developed nations were way better than home-country. Also, a student doesn't need to think much about his or her career because the qualifications achieved in those countries were well-accepted around the world. Moreover, their teachers were more skilled and active than many developing nations. They provided many up-to-date study resources which would be better for study. Also, a student can gather more experience in an alien land which makes him or her stronger and more confident.
In the end, all of us came to the agreement that studying in a foreign developed nation had more benefits than in a home country. I think it was a great discussion because it let me gather more knowledge about the foreign education system and confidence about studying there.
If you like this post, don't forget to put your comments below.
If you think the post is helpful, please follow and like us: