IELTS Speaking: Cambridge 14 Academic Test 1 Speaking; complete test with model answers
This IELTS Speaking post covers the complete answer package for Cambridge IELTS 14 Test 1 Speaking full test. Here, I've offered answers or solutions for Part 1, Part 2, and Part 3. The candidates may make necessary changes where needed to suit the answers for their own circumstances. Hopefully, this post will be useful for newcomers to IELTS who have major difficulties understanding the test.
PART 1
The examiner will ask the candidate about him/herself, his/her home, work, studies, and other familiar topics.
Future
What jobs would you like to have 10 years from now? [Why/Why not?]
Right now I'm working as a Junior Teacher in an elementary school. I've already done three minor courses on teaching development. After a decade I wish to become the head of any elementary school. I don't wish to quit teaching children and the reason behind this is that I've already fallen in love with my institute. So, it would be nice if I successfully become the head of where I'm teaching now.    
How useful will English be for your future? [Why?]
English has already played a major part in my life to secure this current job I'm doing. This language is vital for me and I believe it will be the same in the coming future. I wish to become a travelling teacher in Europe. I want to teach in different countries and knowing English clearly can surely help me here in the future as it is spoken all over Europe.  
How much travelling do you hope to do in the future? [Why/Why not?]
As I've already told you that I wish to become a travelling teacher, I have a firm travel plan and I've already started to save some money. In the future, I wish to visit some countries in Europe, especially Italy, France, Portugal, Denmark, and Sweden. This means I am to do lots of traveling in the future.
How do you think your life will change in the future? [Why/Why not?]
Well, that's quite difficult to say. As far as my career goes, nothing special will change as I've always wanted to work as a teacher. However, age is something we can't keep hold of and so it may play a great role in changing my attitude and taste on different matters.
I am generally a very enthusiastic and agile person but in the future, I might become sluggish though I never want that. Plus the way technology is gaining on us, I think I might not have to do as much work as I do currently. I already teach in a multimedia classroom. Newer forms of teaching aids may change the way we teach now in the forthcoming days.
Part 2
CUE CARD/TOPIC CARD: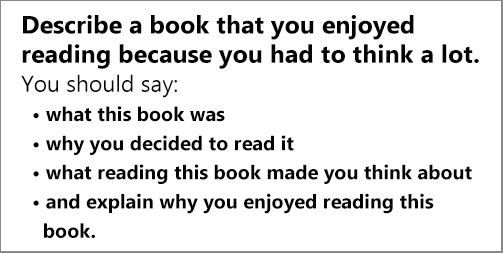 Model answer: 
As reading is my favorite hobby, I like to read as many books as I can. For this cue card, I'm going to talk about such a book that not only gave me a lot of pleasure but also made me think about life and my achievements in life.
When I was a student at A-level, I was given a reading list by my teacher in my college. That reading list contained the names of different blogs, written documents, and 30 books. One of the books was a short novel entitled 'The Old Man and the Sea" written by the great American author 'Ernest Hemingway'. It was written in 1951 in Cuba and was published the following year. I decided to read the book because one of my favorite teachers knew that I was a bookworm and recommend it highly.
The book tells the story of an old Cuban fisherman named Santiago who has lost all his fishing skills due to being old. He takes a daunting attempt to set out on a fishing trip into the wild sea one last time. Fortunately, he succeeds to catch a huge Marlin fish after 84 days but the Marlin is way too big for him to handle. However, Santiago does not let it go even though he is very weak and feeble. A great tug of war builds up between the man and the fish but Santiago wins. When he is returning with the Marlin, he has to tie it to his boat and keep it in the water as it is too big. Sharks get attracted by Marlin's blood and start eating it. When Santiago finally reaches the shore, all which is left is the skeleton of the Marlin. However, the fishing community finds out about the matter and they praise Santiago for his courage and let him know that they would take him to fish with them.
The book gave me such pleasure and I was so worried about Santiago. When reading the book, I felt I was Santiago and I was doing my fight with the Marlin and the sharks. The book is a great source of entertainment and thought-provoking. We can learn that age is just a number if our determination is strong. If we try, everything is possible for us and Santiago is the greatest example of it. This book made me think about supporting old people and regaining faith in myself to move forward. We should never lose hope whatever the circumstance we face in our life. We should hope for the best and continue to do our good work. This is what I learned from this book. I also learned that no good result can be attained without hardship.
Part 3
Discussion topics
Children and reading
What are the most popular types of children's books in your country?
In my country, children love to read books which mainly deal with the fantasy world, as we find in 'Harry Potter' and 'The Lord of the Rings'. Children also like to read DC and Marvel comics such as Superman, Batman, Spiderman, The Flash, etc. They also love to read local folk stories. Nowadays, they also read a lot of adventure books.   
What are the benefits of parents reading books to their children?
There are a number of benefits, in my opinion. The most vital of them is that when parents read books, they are getting closer to their children which develops a bond. It is important for parents to be close to their children.
Moreover, when a child finds out that his/her parents love books, he/she also becomes more and more interested in books than all other activities. As we know that reading skills are essential for anyone dreaming to be a champion, these children can get in touch with different books when parents read them different stories. It also improves their decision-making skills. They can judge between right and wrong.
Besides, by reading books to children parents are forming their children's personalities and values too.
Should parents always let children choose the books they read?
Yes and no.
Parents should give some freedom to their children in choosing books but that should be restricted in some cases. For example, parents can take children to the child section of a big bookstore and let them browse and choose books alone.
However, in some bookstores, there are some 'age-restricted' books, and parents and guardians should be careful when there are adult books around. Some books depict cruel and horrific matters and so they are called 'age restricted'. Parents should not let their children go near that section.
Electronic books (e-books)
How popular are electronic books in your country?
Well, it's quite difficult to say. E-books are not that much popular in the place where I live. I personally love to read e-books as I use computers and laptops regularly.
In big cities and towns, e-books are gaining popularity. My friends have different tech devices which they use to read e-books. However, e-books are not so popular in rural areas like urban areas.
Older people love to read hard copies as they feel more comfortable reading them. They don't feel comfortable handling technology at all.
I think e-books are gaining popularity day by day. Children are learning to read books on different devices in their schools nowadays. I hope it will be very popular in the coming years.
What are the advantages of parents reading electronic books (compared to printed books)?
That's an interesting question. I believe that if parents read e-books, they become experts in using new technologies. This not only helps them adjust to the faster technologies but also makes them able to pass some great time and gather knowledge. They can store a lot of books in one device which doesn't take any room space at all.
This also helps their children become accustomed to new technologies and build up a habit of reading books on tech devices and online. Compared to printed books this is the main benefit of reading electronic books.
Will electronic books ever completely replace printed books in the future?
The way the world is moving forward, I think e-books will be able to take the place of printed books, unfortunately. I generally prefer printed books. I love the smell of printed books and turning over pages brings me great pleasure. However, printed books also contribute to deforestation, if you think in a broader sense. So, e-books are a great way to keep our forests alive and anew. There is also the advantage of publishers not thinking about transport costs, warehouse costs, and so on. You also need not go to a bookstore nowadays to buy a book. Just order online for a virtual version of the book and you can easily get it online.   
If you think the post is helpful, please follow and like us: