IELTS Speaking part 2, Cue card: A country you wish to visit; with model answer
Hello! In this post, I'm going to deal with IELTS Speaking Part 2, also known as the cue card or topic card section. One of the most common topics of IELTS speaking is the country which you wish to visit. Here, I'm providing a sample answer which you can learn or follow and update according to your choice.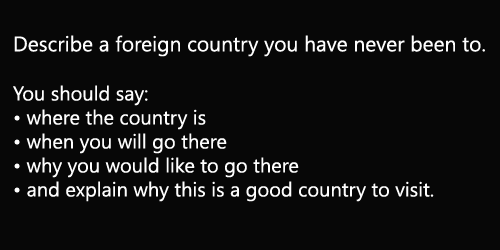 Model Answer:
There are many countries where I've had dreams of going to but the country which I have always wished to go but have not visited until now is Italy. So, I would like to talk about it. I've been dreaming of having a trip to Italy for more than 4-5 years. I'll certainly visit the country as soon as my study is complete.
Italy is located in the Southern part of Europe. Rome, the prime city and the Capital of Italy has been the most important political and spiritual center of Western civilization. It has been serving as the capital of the both Roman Empire and Christianity. It is a famous country for its wonderful landmarks. I'd like to visit there to enjoy the museums, arts, streets, culture and other attractive places. Another reason I want to go there is to visit the Vatican City.
One of my favorite writers in the world is Dan Brown who has written extensively about this city in his book Angels and Daemons. I have also heard various stories and historical facts about this country and being face to face with them would be a great pleasure for me. Places like Cecily, Venice, Rome, and Florence will definitely fulfill my long wish. There are ample things to see: arts, museums, St. Peter's Basilica, Sistine Chapel, the Colosseum, the Leaning Tower of Pissa, Florence Cathedral, Milan Cathedral, Piazza SanMarco, Roman Forum, Circus Maximus, and many more.
Once upon a time Italy was one of the most superior territories and contained lots of historically significant places to visit. I've heard and studied about those places so many times and heard stories from many of my friends that having a trip to this country has become a foremost desire for me. And I'm quite sure that this trip to Italy will be one of the finest moments of my life which I'll cherish in my heart for a long time. And I'm quite optimistic about visiting this country very recently.
That's all. Thank you.
That's the end of this model annswer.
You can also cover some similar topics, if you learn this answer, such as:
Your favorite country

A country that attracts you

Your dream destination

A country where you would like to live/ stay

A country with many tourist spots

A place you desire to visit

A country where you want to spend some time

A desirable place to visit

Your dream country etc.
Here are model answers to some other topic cards:
A building/structure with architectural interest
A book that had a major influence on you
A new shop recently opened in your city
An English lesson you remember
If you think the post is helpful, please follow and like us: