IELTS speaking part 2, cue card: A new shop recently opened in your city; with model answers
Hi. Let's have a look at this nice IELTS speaking part 2 / cue card sample. Here, we are going to deal with a widely known topic which is A new shop you have visited recently. You can always change the sample answer according to your choice.
If you can talk about this topic, it is easy for you to cover some other similar task cards like:
A shop you like to visit, Your favorite shop/ store, A nice place in your hometown/ locality, A place to buy things etc.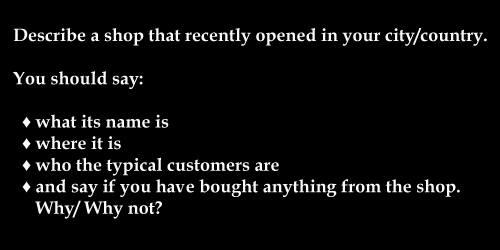 Sample Answer:
Thanks a lot for this nice task card topic. I went to a new shop in my hometown which was launched 2 months ago. The shop is dedicated to products for children only.
This shop supplies the finest necessities for children as well as infants. The name of the shop is Baby's Stock. It's a new and luxurious shop and I want to share my experience of visiting it.
The shop is positioned in the heart of my hometown Adelaide and at the outset has the second-only branch in my country, Australia. The other branch is in Sydney. As it is positioned in the center of the town, the shop is easy to get to from every corner. This is a huge shop just like a supermarket for babies and provides an extensive range of essential stuff for the people of Adelaide. You can buy virtually any baby product from here. Interestingly, it's a 24/7 shop which means it's open all the time.
The typical customers for this shop are obviously new parents. In addition, other guardians or parents who have toddlers under five years old at their home are also among the common visitors to this shop. They regularly visit the shop to get their necessaries. As I've mentioned before, the options are extensive and thus there are plenty of odds to get the exact product for their babies. Furthermore, people who require any baby products and cannot find them elsewhere also come to this shop. So, the importance of this shop is undeniable.
Just a couple of days ago, I had to visit the shop for buying a gift. Actually, two of my cousins have become new mothers coincidentally and we threw a huge party for this big moment. Prior to the visit, I was planning of taking a gift for the new offspring. Then, I understood that a baby shop is the finest place to look for the correct thing for newborns. I had a peek at the shop and got some clothes and toys for these angels of God.
That's all. Thank you.
Here are model answers to some other topic cards:
A building/structure with architectural interest
A book that had a major influence on you
A new shop recently opened in your city
An English lesson you remember
If you think the post is helpful, please follow and like us: