IELTS Speaking Topic card: A future plan/ an aim yet to fulfill; with model/sample answer
Let's discuss about a topic card/ task card/ cue card of the IELTS speaking part . This post is based on part 2. Today, we are going to learn a model answer for A future plan/ an aim yet to fulfill . You may also find this topic card as your aim in life, an incomplete dream/ an ambition yet to be fulfilled etc.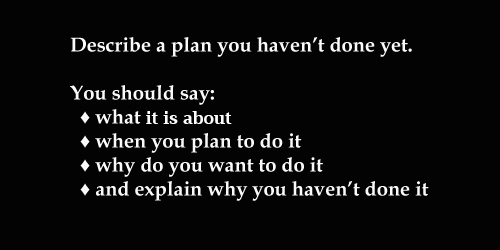 Sample answer:
Thanks a lot for the card. I have a plan to open a completely free education institute in my hometown after a few more years. I am going to talk about it because I have been aiming at this since my childhood. After I got myself admitted to the university, I have been doing two post grads, one in my own subject MBA and one other in Social Studies.
Truly speaking, I would never do two post graduation courses as I had been really busy during my university life. But I took it as a challenge to complete Masters in Social Studies to fulfill my aim. I started adoring this subjects I was doing and started feeling the enormous opportunity this might have in my future life as wanted to become the CEO of my own institute.
To be more specific, I have this dream for the last 15 years. However, this dream started to take a permanent shape in my head when I was in the second term in my university due to an incident I observed when I was having coffee with my classmates during a class break in the canteen. I saw a waiter in the canteen who was very gentle looking. He was of our age and one of my friends, Katherine, was having a chat with him. She became very to hear that he had to stop studying due to financial crisis. I, then, started focusing on my aim to open an institute where people from lower financial background will have the opportunity to complete short skill-based courses without any charge or tuition fee.
At first, I need a really impressive result in my Masters Degree program so that I can claim to have enough qualification to start my own academic institute. This would be the first step in fulfilling my ambition. Then I would need to study and research really hard to create an important presence in my subject arena. My devotion, willpower and hard work would be the crucial factors for attaining this ambition.
I haven't done it yet because I am still fulfilling the pre-requirements and becoming more skilled. I want to wait until the precise moment comes. I don't to rush anything. After completing the requirements, I think I am able to fulfill my dream. It is because I am a truly dedicated person and I never miss my goal. I never missed it before and I'll not miss it now. Bearing in mind all these, it's really important for me to achieve my ambition.
Thank you.
If you find this topic card interesting, here are links for some other topic cards for you.
1. An important email/letter you received
2. An enjoyable place you visited
3. A problem that affects the environment in your area
4. A plant grown in your country
5. A difficult choice/decision you had to take
8. A stressful day at work/school/university
9. A building with architectural interest
10. An English lesson you enjoyed/took
If you think the post is helpful, please follow and like us: