IELTS Speaking Part 2: Cue card; A meal that you have shared with friends; with model answer
This IELTS speaking part 2 topic is a recent one and it is a very easy topic card to answer because almost everyone has friends and they share meals with them. The title of the topic card is "A meal that you have shared with friends". Having meal with friends is a very usual matter and it is considered as a great culture of a country. The answer provided here is a band-8 standard. Hopefully, this model answer will help you to prepare for the cue card and some other cards as well.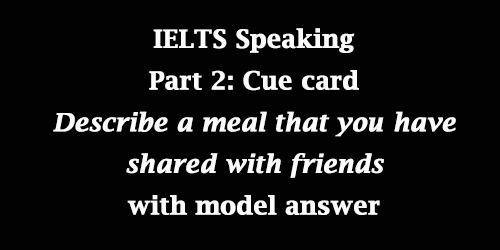 Cue card: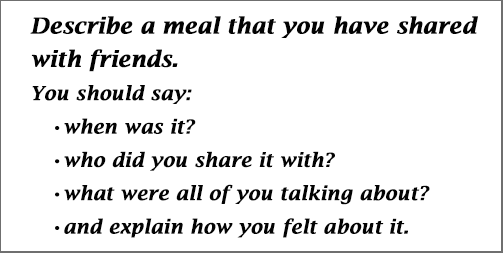 Model answer:
Thanks for the cue card. / Thanks a lot for the topic card.
Last winter, it was freezing cold for a week at a stretch and after that, I thought I had to share a meal with my friends at my home. All of a sudden I invited them for dinner and they arrived at my place here in Ankara. I was surprised indeed because I thought they would not come in this freezing weather. But when I saw them I felt glad that I could pass a nice time with my friends.
I shared a meal with my college besties. I invited 10 of my friends and Collin, Kushal, Afzal, Robin, Ela, and Jennie were some of them. All of us were the students of a local Science and Technology college in Ankara and we share a strong relationship among us. I had to share the meal as it all of a sudden came to my mind that I needed to have a party with them. Actually this happens to us all the time. Surprise parties are a very part of our life.
Though it was not any special occasion, there were many topics of discussion that changed from time to time. We started discussing our recent vacations. The upcoming semester final was also a great concern for us and talked a little about that as well. We also shared our views and plans for the preparations for the examination. Recently, Ela met a new boy in the college and we teased her about it. It was great fun as she was blushing all the time we asked her questions about the new person. She told us it was nothing serious but all of my friends had a different view about it.
Frankly speaking, it was a great and memorable experience. I went to other parties but it was really nice experience. My mom cooked some spicy dishes like rice over bulgur, koftes, roasted potatoes, and eggplant dish for us in the middle of the night. However, as it was not planned, there was some shortage of food and we all had to share the meal together. But nobody took it so seriously. Rather, all of them appreciated my mom's cooking. In fact, my friends got a chance to meet together after a long time. They wanted to leave the house after dinner but I did not allow them as it started to snow heavily. So, they stayed for a couple of hours for me.
Since we were best friends, I wanted to give them a treat. They undertook huge troubles for me that very night. I felt lucky because I had a great circle of friends and I was grateful to them.
Thank you.
If you can successfully talk about this topic card, you will also be able to talk about the following topics:
A great time that you enjoyed with some people
A great moment that you shared with friends
A memorable moment of your life
An unplanned meal that you had
A special time that you shared with your friends
A special moment of your life that you still remember
Here are some model answers to some other topic cards for your preparation:
A sport or exercise that you do for fitness
Describe a handsome person you know
Someone you know who does something well
A situation when you were late
Describe an important decision made by you
The best gift or present you have received
Describe something that helps you concentrate 
A terrible/ horrific experience that you had
A meal that you have shared with your friends
If you think the post is helpful, please follow and like us: